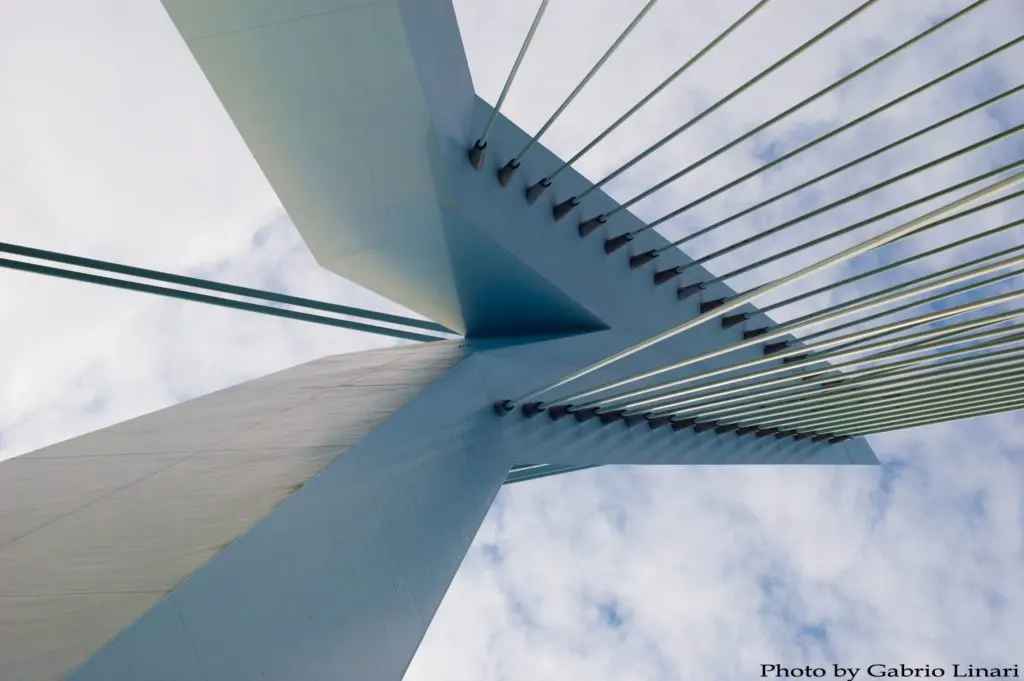 I recently travelled to Rotterdam – while we keep on exploring the Netherlands – and the first thing you notice when you arrive is the beautiful Erasmus Bridge, a combined cable-stayed and bascule bridge in the centre of Rotterdam, connecting the north and south parts of this city, second largest in the Netherlands. The bridge was named after Desiderius Erasmus, a prominent Christian Renaissance humanist also known as Erasmus of Rotterdam, find more facts about the bridge on Wikipedia.
Unique angles capture my view and I like shooting from different point of views – this photo looks unique in the sense that captures the points of strength of the bridge: cables and concrete.
Built from light-blue steel, its one-armed pylon jutting out high into the sky and throwing a row of 40 steel cables across the water, the 800-meter-long Erasmus Bridge is a remarkable sight. At its highest point, the bridge is 139-meters tall. Known as the 'Erasmusbrug' in Dutch, the bridge has also been lovingly nicknamed The Swan ('De Zwaan') by locals due to the distinctive shape of that one, asymmetrical pylon. It was designed by Ben van Berkel and opened in 1996 by Queen Beatrix. Keep on exploring Holland from the official site.